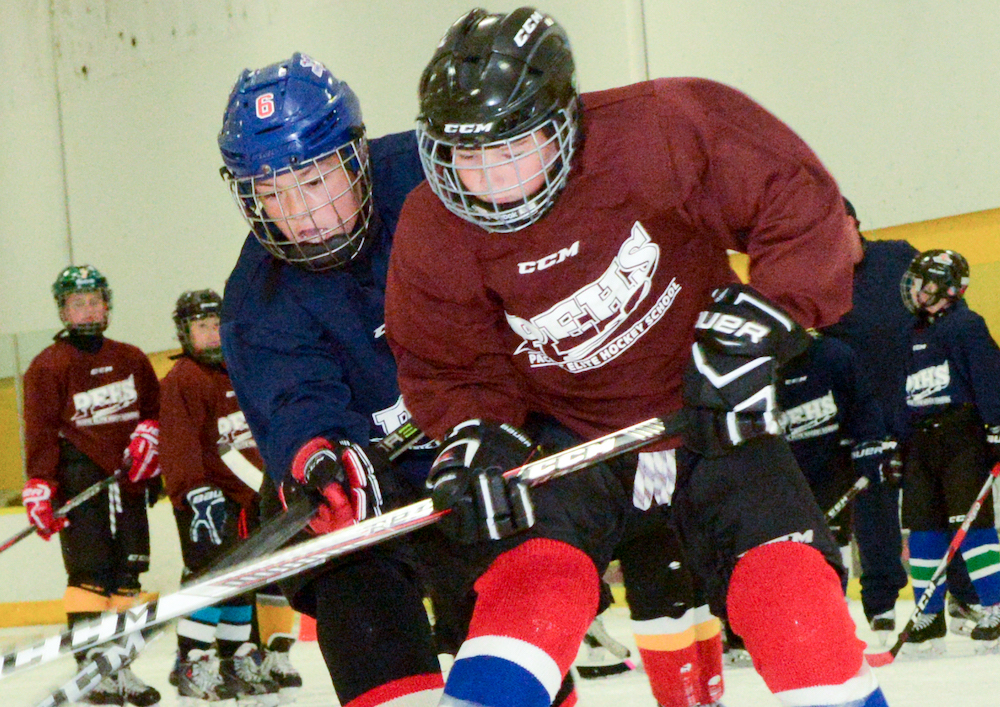 READY FOR REP/RECREATIONAL PLAYERS
Players Born 2010 -11 (THREE years experience)
Currently Playing or Will Play Rep or Trying out for Rep 2022-23
Players born 2010 - 11 Currently Playing Recreational Hockey (Three years experience)
PEHS CONTACT SKILLS HOCKEY SCHOOL
Introduction of Contact and the Skills Necessary to initiate and receive Body Contact .
Players will be Taught Proper Techniques to protect themselves and to use each Player's Contact Compete Game Play and Puck Possession Skills to their advantage .
The players will be shown the Fundamentals of Body Contact to be used in Situational circumstances .
Body Positioning, Puck Protection, Angling and Puck Separation Strategies and Heads up Training .
Speed, Agility and Balance Development as Contact comes into Play
The School will Encourage Players to Think in High Intensity Game like Situations within the Framework of a Fast Paced and Competitive Atmosphere.
OVERALL OBJECTIVES OF CONTACT SKILLS, SKATING AND SCORING COMBO
BODY CONTACT
Winning One-on-One battles, Battle for Puck Possession in all Areas of Ice, Net Protection and Positioning to Prevent and Achieve Scoring Opportunities
Neutral Ice superiority, Out-Hustling Competition, Strong Work Ethic and Determination.
Body Contact, Giving and Taking, Degree of Force, Personal and Opponent Safety Concerns
SKATING TECHNIQUES
Advanced Acceleration and Maximum Speed Skating Efficiency
High Speed Forward and Backward Transitioning
Endurance, Aerobics and Stamina Building
SCORING AND STICK SKILLS
Forehand/backhand, Touch, Deking, Saucer, Give and Go Passing
Stickhandling, Deking, Toe Drag, Puck Protection
Shooting to Score
TEN (10) Hours of Hockey ---Two Hours per Day --- Monday to Friday.
LIMITED TIME OFFER
$25.00 OFF
The price for each additional Program signed up for (Same Player)

DON'T BE SHUT OUT
2022 COVID-19 CANCELLATION POLICY
ANY PEHS AUGUST PRE-SEASON SESSION WHICH IN THE UNLIKELY EVENT IS FORCED TO CANCEL DUE TO COVID-19 YOUR PAYMENT WILL BE FULLY REFUNDED TO THE ORIGINAL FORM OF PAYMENT WITHOUT CHARGE
Friendly Payment Plan
1)Pay Full Amount $ 399.00
Payment Processed with Registration
or
2)Pay Two Equal Payments (50% each)
1st Payment with Registration $199.50
2nd Payment Sept 15th $199.50