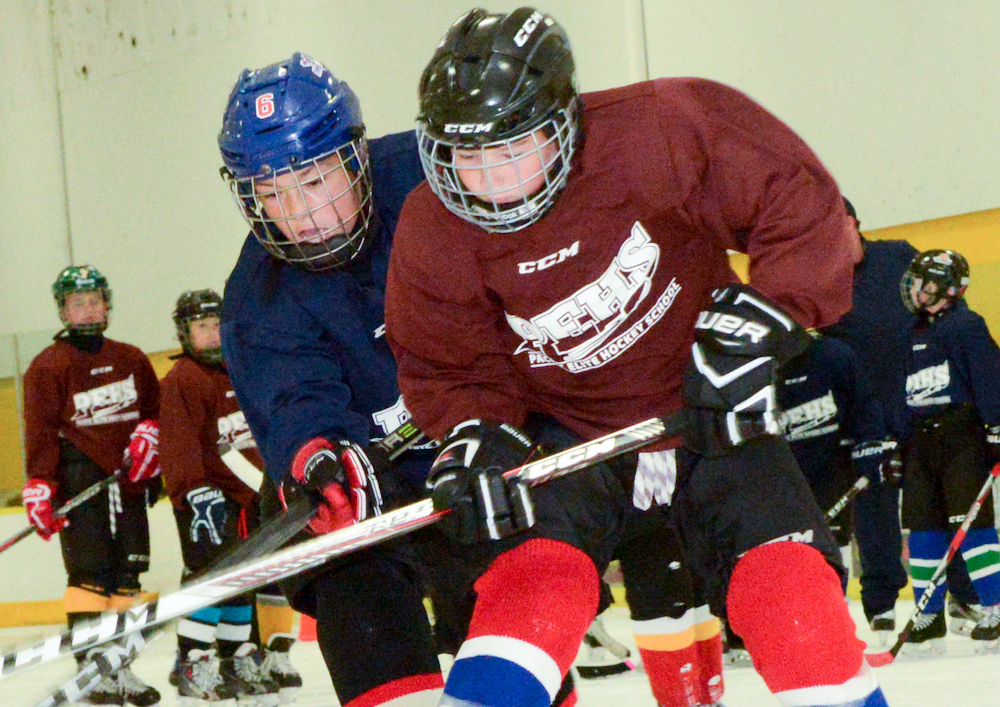 DESIGNED FOR ELITE LEVEL PLAYERS
Playing/Will Play or Try Out for Rep Hockey (2022-23)
Players who may play or who are Playing Academy or Zone Hockey (2022-23)
ADVANCED Recreational Players Currently Playing Recreational Hockey at an Advanced Level (Three years experience)
PEHS HIGH INTENSITY (HIT) TRAINING SCHOOL PROGRAM
Designed by Coach Glenn to Develop and Strengthen each Player's Speed, Endurance and Overall Skills
An Intense and Extremely Challenging School Coached at a Level which will require Maximum Discipline and Stamina on each Player's Part.
The School will Encourage Players to Think in High Intensity Game like Situations within the Framework of a Fast Paced and Extremely Competitive Atmosphere.
OBJECTIVES OF THE HIGH INTENSITY (HIT) TRAINING SCHOOL
A Demanding and Intense Training Program (HIT) Established for each Player through Comprehensive and Motivating Sessions built around Determination, Hustle, Hard Work and Player Compete, Scoring and Skills Development
Achieve (HIT) Scoring, Shooting, Stickhandling, Passing and Hockey Techniques and Strategies.
Accelerate Speed, Mobility, Agility, Stamina and Quickness Drills Utilizing (HIT) Intense Interval Skating Sprints and Aerobic On-Ice Drills Develop High Level Determination, Checking, Passing, Positioning and Puck Battling Skills
THE SESSIONS WILL BE THE SPRINGBOARD FOR A SERIES OF PEHS (HIT) HOCKEY PROGRAMS DESIGNED TO COMPLEMENT EACH SUCCESSIVE SCHOOL SO PLAYERS WILL BE READY TO SURPASS THEIR PEERS AND BE TOTALLY PREPARED FOR THEIR UPCOMING TRYOUTS AND THE REGULAR SEASON
TEN (10) Hours of Hockey ---Two Hours per Day --- Monday to Friday.
LIMITED TIME OFFER
$25.00 OFF
The price for each additional Program signed up for (Same Player)

DON'T BE SHUT OUT
2022 COVID-19 CANCELLATION POLICY
ANY PEHS AUGUST PRE-SEASON SESSION WHICH IN THE UNLIKELY EVENT IS FORCED TO CANCEL DUE TO COVID-19 YOUR PAYMENT WILL BE FULLY REFUNDED TO THE ORIGINAL FORM OF PAYMENT WITHOUT CHARGE
Friendly Payment Plan
1)Pay Full Amount $ 399.00
Payment Processed with Registration
or
2)Pay Two Equal Payments (50% each)
1st Payment with Registration $199.50
2nd Payment Sept 15th $199.50