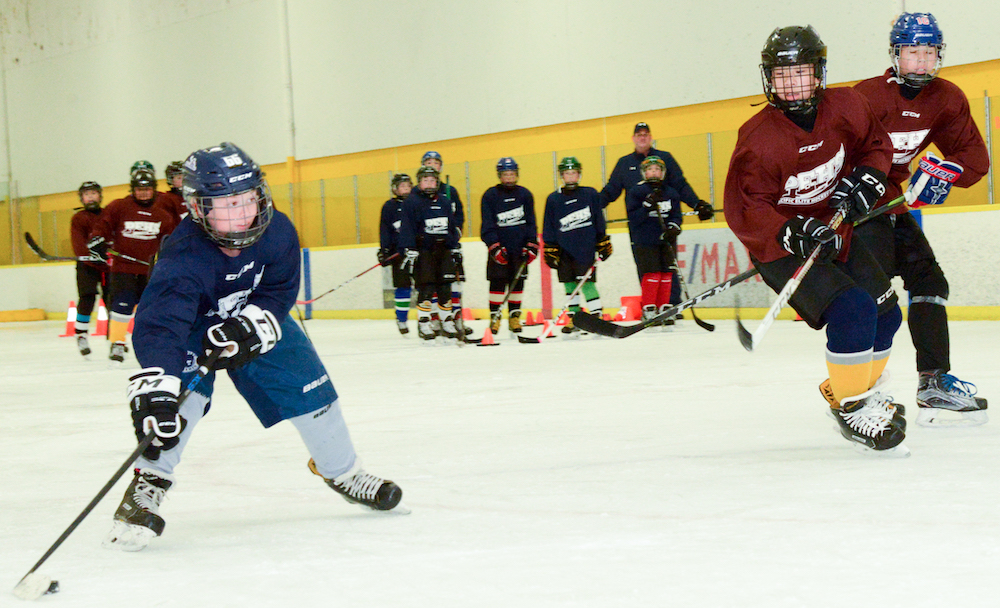 READY FOR REP PLAYERS
Players Born 2012-14 (THREE YEARS EXPERIENCE) TRYING OUT FOR REP HOCKEY 2022-23
RECREATIONAL HOCKEY (THREE YEARS EXPERIENCE)
RECREATIONAL PLAYERS
Players 2012 to 2014 (Two years experience)
PLAYING RECREATIONAL HOCKEY
Our Expert Coaches will Coach Shooting, Shooting, Scoring, Skating and Stick Skills and the Combo is BROKEN INTO THREE TECHNICAL AND PRACTICAL SEGMENTS
Shooting, Shooting and More Scoring
On-Ice Shooting Skills Sessions Designed and Calculated to Teach each Player to Make the Best of Each Scoring Opportunity.
Forehand
Backhand
Snapshot
Slap-Shot
Roofing
Tipping in close
POWER SKATING, SKATING AND MORE
First Step Explosiveness and Quick Stops
Agility, Balance, Co-Ordination, Edge Control
Backward/Forward, Turning, Crossovers, Pivoting
Maximum Speed, Quick Feet, Transition
PUCK HANDLING/PASSING AND STICK SKILLS
Balance, Stance, Agility on Feet, Protection
Stickhandling, Spinning, Feinting, Strength
Weight Shift to Propel Puck, Edge Transition, D to D
Receiving Pass, Body/Stick Positioning to Score
Competing for Puck Possession, Against Competitors
In Offensive and Defensive Zones
EACH PLAYER WILL BEGIN THE PROCESS OF GETTING READY FOR THEIR AUGUST/SEPTEMBER TRYOUTS AND THE NEW SEASON.
TEN (10) Hours of Hockey ---Two Hours per Day --- Monday to Friday.
LIMITED TIME OFFER
$25.00 OFF
The price for each additional Program signed up for (Same Player)

DON'T BE SHUT OUT
2022 COVID-19 CANCELLATION POLICY
ANY PEHS AUGUST PRE-SEASON SESSION WHICH IN THE UNLIKELY EVENT IS FORCED TO CANCEL DUE TO COVID-19 YOUR PAYMENT WILL BE FULLY REFUNDED TO THE ORIGINAL FORM OF PAYMENT WITHOUT CHARGE
Friendly Payment Plan
1)Pay Full Amount $ 399.00
Payment Processed with Registration
or
2)Pay Two Equal Payments (50% each)
1st Payment with Registration $199.50
2nd Payment Sept 15th $199.50